Reiki Level 1 Training Refresher Course
Reiki Level 1 Training Refresher Course
This is for Reiki practitioners, who want to refresh their Reiki Level 1 training knowledge
Reiki Level 1 Training Techniques Refresher Course
Course Summary:
Are you already a Reiki Level 1 practitioner, but would like to refresh your knowledge of Reiki level one, or simply want to learn how and what we teach in our class?
Then this course is for you.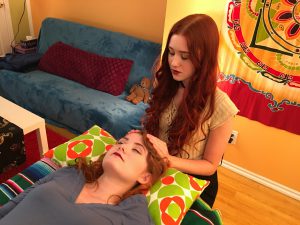 Our course teaches all about Reiki, including Aura and Chakra, Reiki Sessions, Chakra Cleansing and Balancing, Reiki History, Reiki and animals, Reiki and food, and much more.
Important: this course doesn't include the necessary Reiki Attunements to become a Reiki Practitioner. If you want to be a certified Reiki practitioner, please enrol in our complete online Reiki 1 course.
Course Curriculum:
Welcome To Reiki Level 1 Teachings
-Introduction To Reiki
-About Reiki
-Reiki Levels
-Reiki History
-Disclaimer
-e-book Part 1
-The Reiki Principles

Reiki Level 1 Refresher Course


This is for Reiki practitioners, who want to refresh their Reiki Level 1 knowledge
-Just for today do not worry
-Just for today do not anger
-Honour your parents, teachers and elders
-Earn your living honestly
-Show gratitude towards all living things
-Aura And Chakra Lesson
-What is an Aura?
-What are Chakras?
-The 7 Main Chakras
-Reiki Attunements Level 1
-What is an Attunement?
-Do Distance Attunements actually work?
-How does an Attunement feel like?
-If you haven't used Reiki for a long time
-Reiki Self Treatment
-Preparation
-Grounding
-Demonstration of a Self Healing Session
-Good To Know
-General Chakra Balance
-Chakra Balance to calm the mind
-Take time for yourself
-What else can you do with Reiki?
-Reiki for Food and Water
-Protection and Room Cleansing
-Music to download
-Treatment for a Friend or Client
-e-book Part 2
-Full Body Session For A Friend or Client
-Sensing and Smoothing the Aura
-Handpositions for a Full Body Treatment
-Chakra Balance to calm the mind of a Friend
-General Chakra Balance for a Friend
-Short Treatment on a Chair
-Chakra Balance on a Chair
-Short Treatment to release pain
-Other methods that you can include in a session
-More To Know
-Important Notes
-Giving and Taking
-Reiki for Plants and Animals
-And Reiki and Crystals
-Reiki and Colors
-More to know
-Demonstration of a Reiki session with two practitioner
-Bonus – Chakra Cleansing
-Material to download
-Congratulations
-Next Step: Reiki Level 2
-Time to move on?
-Next Step – Reiki Level 2
Take this comprehensive refresher course now: Reiki Level 1 Techniques
See you on the other side

Reiki Level 1 Refresher Course


This is for Reiki practitioners, who want to refresh their Reiki Level 1 knowledge
[whohit]Reiki Level 1 Training Refresher Course[/whohit]