How To Do A Shamanic Journey Preview Mini Course
How To Do A Shamanic Journey Preview Mini Course
How To Do A Shamanic Journey Preview Mini Course is meant to give you a FREE taste of Shamanic journeying.
I invite you to How To Do A Shamanic Journey Preview Mini Course, which is a taste
of my course "How To Do A Shamanic Journey To Find And Bring Back Your Power Animal"
Do you feel drawn to Shamanic Healing, but you're not sure if this is the right way for you to go?
Of course, there are different ways of practicing Shamanic Healing, and one of them is Shamanic Journeying.
There are also different ways of Shamanic Journeying, so I understand that it isn't always easy to find the right way that fits best for you.
Try Shamanic Journey For FREE


Shamanic Journey - Try It For FREE - Find out, if Shamanic Journeying is what you would love to learn 🙂
That's why I want to invite you to this mini course, which is a preview of my course: How to do a shamanic Journey to find and bring back your Power Animal".
My name is Daniela, and I have practiced different Shamanic Rituals since 2002.
In This Mini Course, I Will Introduce You To Shamanic Journeying, So You Can Take Your First Step On This Amazing Spiritual  Journey
A Shamanic Journey is a spiritual practice, and it's a way of exploring the spiritual realms, and making contact with spirits, spirit animals, power animals, lost souls, angels, ancestors, elders, or departed shamans. It's a way of finding out more about yourself, or finding information, healing, wisdom, knowledge, and guidance with one's personal life.
What's this mini course about?
This course teaches you how to do a Shamanic Journey to the Middle World.
It would be good, but not necessary, to have some experience with meditations, or energy work. It's important is to be open minded.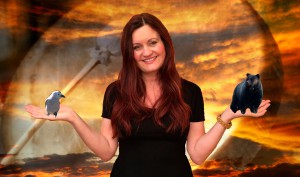 What are the requirements?
You need a bandana or just a scarf to cover your eyes.
Have a blanket, and a small pillow
Maybe have another blanket to cover yourself if you get cold easily
Have a stereo (is preferred) or use an mp3 player with headphones.
Everyone can learn Shamanic Journeying, just be open for new experiences
What's the target audience?
This course is for students who like to learn about Shamanic Ritual and Shamanic Healing.
It's for students who want to grow spiritually
This course is not for people who need a medical or psychiatric treatment.
Would you like to go the Shaman Way of Self Improvement and self Empowerment? Find out here. See you on the other side.
Take How To Do A Shamanic Journey Preview Mini Course Now! Have an enlightening journey. Time to Grow! It's FREE.
[whohit]How To Do A Shamanic Journey Preview Mini Course[/whohit]