How free Meditation Courses At Gatelightelearning.com Can Help You Find Your Inner Peace
How free Meditation Courses At Gatelightelearning.com Can Help You Find Your Inner Peace
Meditating is not easy. The masters train for years to know how to find inner peace through meditation. FREE meditation courses like this one, by Daniela Hills, does not promise that you will become a master, but it certainly fast tracks you toward bringing more inner peace into your life.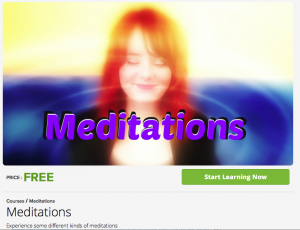 FREE Meditation Courses Can Be Guided
The quickest way to achieve similar masterful results through meditation is by cheating a little. One way is to find your inner peace through guided meditations.
This course offers several guided meditations:
First off, the course starts with: "lets attune to each other", which is about three minutes long.
I love the fact that these meditations are short, my time is valuable, yet I still want an effective guided meditation. Daniela's FREE meditation courses offers a great balance.
Next, she gives you a simple breathing meditation, a short one, that's three minutes long. Then you do a ten minute breathing meditation. After that, there's a guided ten minute inner peace meditation. Then comes a powerful gratitude meditation. She then goes into a mantra; and then one that uses Binaural Beats, which I will talk about in a second…
Healing With Drums Is Included Too, Which Is One Of The Most Powerful Tools Of The Shaman
All of this is presented to you in perfect order. It will take you into states of mind that would normally take years to learn on your own. This is especially true with the Binaural Beats mantra.
The amazing thing about Binaural Beats is that just by listening to them, they will balance both side of your brain to create a harmony: a meditative state the only the masters can achieve.
This is a quick and powerful way to achieve stress relief, which is the number one cause of illness.
Daniela suggests that you start with a few minutes of meditation a day, and keep it simple. Meditations help you to connect with yourself, and the spirit world. So take time for yourself, at least 10 minutes a day.
Click now and get her free meditation courses

Get this FREE guided meditation course Now! How To Find Your Inner Peace


Click NOW to get this FREE Guided Meditation Course
[whohit]How free Meditation Courses At Gatelightelearning.com Can Help You Find Your Inner Peace[/whohit]