JP Sears Ultra Spiritual Is Really Spiritual
JP Sears Ultra Spiritual Is Really Spiritual
Jp Sears takes spirituality seriously. So much so that he's willing to throw us for a loop, in order to snap us out of our comfort zones.  If we delve deeper into, lets say: the science of spirituality, we begin to realize that whatever the spirit is, it's ambiguous at best.  Often spiritual people try to make too much sense of what being spiritual means. JP Sears Ultra Spiritual brilliantly points this out to us.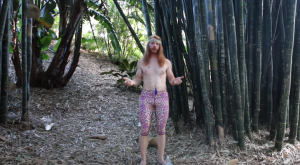 I consider Biocentrism the science of the spirit, but even it describes an inexplicable soul bound in eternal consciousness.
Why is JP Sears Ultra Spiritual, Spiritual?
JP Sears Ultra Spiritual is spiritual because, for me, living a spiritual life is all about confronting my preconception of reality, everyday.  Questioning reality, and what we think we know, is paramount in letting go of logic, and meeting our true selves as pure consciousness.
JP Sears spiritual satire works because he is helping us to see the truth. If there's no truth in comedy, there's no humour. If there's no truth there's no joke, and we won't laugh.
Comedy is sometimes the most spiritual thing of them all. It makes us question reality and ourselves. Andy Kaufman was the greatest at making us question reality.  JP Sears is good at it too.
When we question reality, it takes us to a place consciousness hasn't been before, and opens us to new possibilities.  It helps consciousness better understand itself, and points to new sources of creation.
One of the truths JP Sears exposes is that even on a spiritual level humans tend to be competitive.  It's obvious in his book title: "How To Be Ultra  Spiritual: 12 1/2 Steps To Spiritual Superiority"
This book is a great buy, if you want to be more spiritual than all of your friends. That's funny!
JP Sears Ultra Spiritual videos:
How to be Ultra Spiritual (funny) – with JP Sears

If Trump Drank Ayahuasca – Ultra Spiritual Life episode 56

How to Take Yoga Photos for Instagram – Ultra Spiritual Life episode 34
JP Sears Ultra Spiritual, although being satirical, is often more spiritual than most.  But now why not depart on a spiritual adventure, into the spirit world, a little less utlra:

Try Shamanic Journey For FREE


Shamanic Journey - Try It For FREE - Find out, if Shamanic Journeying is what you would love to learn 🙂
Go to The Ultra Spiritual Channel
[whohit]JP Sears Ultra Spiritual Is Really Spiritual[/whohit]