Shamanic Journeying: A Beginner Guide Made Easy
Shamanic Journeying: A Beginner Guide Made Easy
Shamanic Journeying Can Be Done By Beginners
Anything meant for beginners must be taught as clearly and simply as possible. Daniela Hills teaches shamanic journeying for beginners. She is one of the most experienced spiritual teachers, healers, counselor's, medium's. She is a spiritual storyteller, fortune teller, and guide of souls around. All of the above describes a traditional Aboriginal shaman, taking on many rolls within their community.
Yes, Daniela can go deep into the spirit world for you. She can do for you a soul retrieval, and so much more.
She has been practicing modern shamanism as a shamanka for a long time. But she also understands how to tech beginners. She has been teaching people everything she knows for years. So now she is offering her wisdom, for the first time, through online courses.

Try Shamanic Journey For FREE


Shamanic Journey - Try It For FREE - Find out, if Shamanic Journeying is what you would love to learn 🙂
She knows how to boil down complicated themes into easy to understand chunks of information, that the novices can ingest effortlessly. Hence, this is what she has done with her shamanic journeying beginner guide:
How To Do A Shamanic Journey To Find And Bring Back Your Power Animal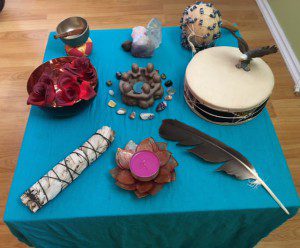 So this course is really well structured and easy to learn.
What is the course about?
Learning how to do a Shamanic Journey. The Journey centers around finding and bringing back your Power Animal. As a bonus it also teaches you how to connect with your Spirit Guides, and how to get answers to questions.
Maybe you tried to do this already through a meditation. But it didn't really work out for you, because doing a meditation is not your thing. Just listening to the free drumming music, offered in this course, will put you into a meditative trance automatically, at least that was my experience.

A Shamanic Journey is a spiritual practice, and it is a way of exploring the spiritual realms, and making contact with spirits, spirit animals, power animals, lost souls, angels, ancestors, elders, or departed shamans.

It is a way of finding out more about yourself, or finding information, healing, wisdom, knowledge, and guidance with one's personal life.
In conclusion, Click here: this is truly a shamanic journeying beginner guide
[whohit]Shamanic Journeying: A Beginner Guide Made Easy[/whohit]