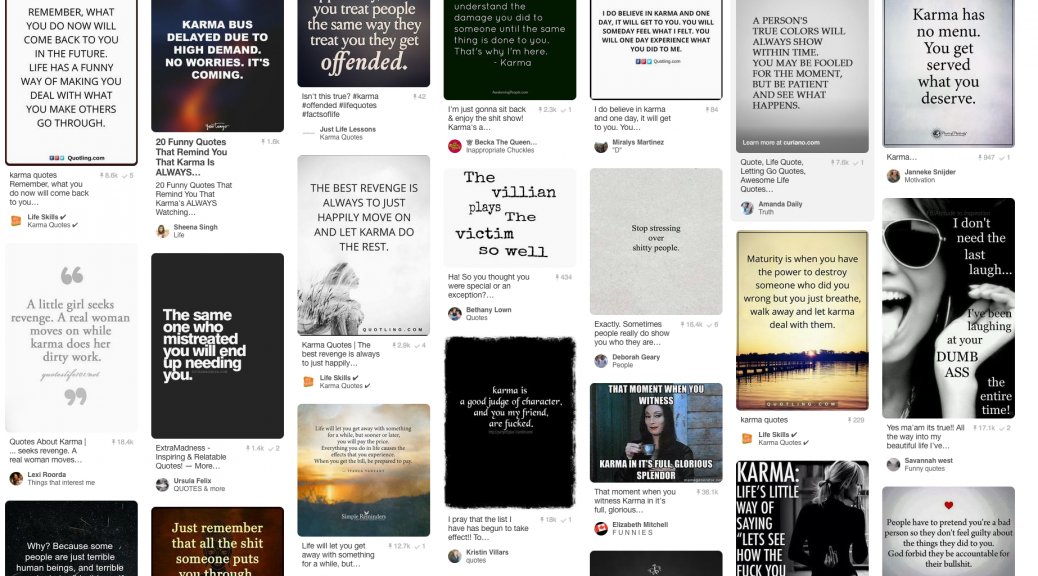 Top 10 Karma Quotes I Found On Pinterest
Top 10 Karma Quotes I Found On Pinterest
Here are some more karma quotes, this time some I found on Pinterest. Just remember that if you feel like a victim, it's because you have been victimizing others. When karma hits you hard, say thank you, and learn from it. If you haven't already been working hard at creating karma you love, now is the time. Use your bad karma as a lesson, take a different path, move on to better future experiences. Gratitude for bad karma is as important as gratitude for good karma.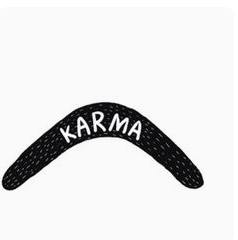 Top 10 Karma Quotes I Found On Pinterest
1. "The same one who mistreated you will end up needing you"
2. "Karma has no menu. You get served what you deserve"
3. "The villain plays the victim so well"
4. "The best revenge is just happily move on and let karma do the rest"
5. "Karma is a good judge of character and you my friend are fucked"
6. "I little girl seeks revenge. A women moves on while karma does her dirty work"
7. "Stop stressing over shitty people"
8. "Apparently when you treat people the same way they treat you they get offended"
9. "Sooner or later everyone sits down to a banquet of consequences"
10."Don't play the victim to circumstance you created"

Try Shamanic Journey For FREE


Shamanic Journey - Try It For FREE - Find out, if Shamanic Journeying is what you would love to learn 🙂
Indeed,
Pinterest
is a great place to find life changing quotes like these top 10 Karma Quotes.
Follow me on Pinterest now
!
So if you're experiences in life are predominately negative you need to change this. One way is by changing the way you think, but you need to learn how. Daniela can show you in her FREE email course: how to create Karma you love. Karma can always be improved, until you reach the highest frequency of enlightenment.
So even if you have lots of good experiences and gifts in your life, there is always a reason to improve and create the karma you love.
Take These Karma Quotes On Pinterest To Heart, And Take Action Now:
Karma Course: How To Create Karma You Love


Full Video Course - Learn about Karma, and how to change it! 
[whohit]Top 10 Karma Quotes I Found On Pinterest[/whohit]